i can't believe this has happened again. I returned from my vacation and learned that 3 people had died. One was my favourite radio personality from the trini radio station I listen to regularly (he was younger than I), one person lives here in Atlanta and was one of the older Trinis who welcomed us into their homes years ago when I was a starving student and then there was Carlet. I met Carlet in primary (elementary) school; I think we were about 9. Over the years we didn't stay in touch but whenever we saw each other, we would lime for a few and catch up. She was battling her own disease but you would never know it because she was ALWAYS so full of life, very positive and ALWAYS smiling. Goodbye my friend…my condolences to all those who loved her. I saw the following posted on her wall…
Speaking of making my life the best story in the world. I went to Barbados for vacation and had a fantastic time. One of the things we did was take a catamaran sail along the west coast of the island. Now Barbados, like Trinidad, is not the most "Stacey friendly" (read accessible) place and when we pulled up by the dock my cousin had to go inside to see what accommodations could be made for me to get on the boat. As she went inside, I got out the car and started making my way over because I wasn't sure how it was going to happen but I knew that it couldn't happen with my sitting in the car. There are only 5 people whom I would actually ask to lift me up to take me somewhere cuz they've each done it before and quite regularly too – I know I'm not the heaviest person but I certainly do not go around assuming that someone would lift me up if I asked. As I was walking to the dock, a guy came out and I heard him say, "yeah. We can pick her up and take her in". He went back inside and came back out with another who scooped me up like a rag doll and took me straight on the boat without a second thought. Gavin, the captain picked me up and Reynaldo was his first mate.
the trip included 2 stops – the first to swim with turtles and the other to see 2 ship wrecked boats that are sunk off the coast. As everyone got off and went swimming with the turtles, Gavin told me that he'd take me out at the next stop – I was sceptical, slightly afraid…I am on that (now) self imposed ban from the ocean after all – but how could I say no to that offer. I'd certainly have to put all my trust in this man I didn't know but could probably assume that he knew exactly what he was doing and signing up for. What the hell? You only live once…I have a a short clip of  our getting in the water but alas, I am unable to load it for u.
The next stop was for lunch and fellas with jet skis approached. I remember looking at them and thinking, "sigh…if only." I couldn't see a way that I could end up on a jet ski at all. My eyes made 4 with Gavin's and I guess I motioned or mouthed something to him cuz he indicated  that getting me on the jet ski would be lil tricky (steups! – just as I thought). 5 mins later, I heard my name, looked around and Mone was calling me over. The guy whose jet ski she was riding was happy and willing to get me on.  I eh go lie, it took about 6 men to get me on. Reynaldo was in the water holding the jet ski steady near the steps of the boat, Gavin was holding me under my arms with his partner jostling with my legs (because u know they weren't working on their own – especially under all that pressha), one was swinging the legs where they needed to go and finally I was on. Fella jumped on behind me and we were off…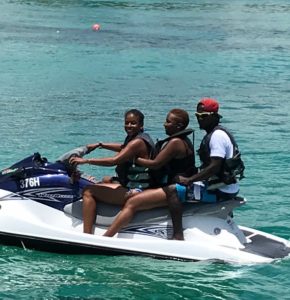 Was great – that day was certainly the highlight of the trip for me. When we docked, Gavin took me back to the car – no questions asked; he was wonderful…the entire crew was.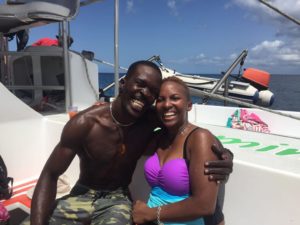 Take your life and make it the best story in the world. Life is too short for regrets and we get no "go backs".