I am a Trinidadian living in Atlanta and this is the story of my living with my "wretched disease", Multiple Sclerosis(MS).  One day in 2005, I woke up with a twitching eyebrow and well…it's now 12 years later and life as I knew it back then, is gone!  These are MY thoughts…MY experiences…MY joys and heartaches that I'm willing to share.
I hope to educate those afflicted by MS as well as those who are not, inspire others into realising that whilst being diagnosed with this disease is a pain in the ass, it not the end of the world and learning how to manage it really is the key to you and the disease cohabiting (somewhat) comfortably.  Everything I share is serious but hopefully my writing style will make you chuckle and/or laugh (and laugh out loud) most times (because life is just too short not to).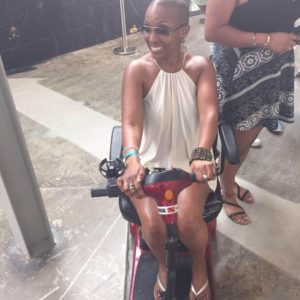 I will use many Trini words and slang in my posts but when I do, I will link to my Trini dictionary that will clear up any confusion.  One that I will use many times (and may forget to link) is lime.  Lime is our word for "hanging out with people."
I hope u enjoy reading as much as I enjoy sharing!