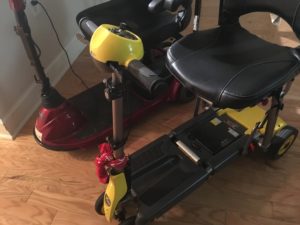 I haven't posted in the last 3 weeks.  it's because I had a full house and just didn't have the time.  Alas, all good things must come to an end so back to our regularly scheduled program.
it's a good thing that even though I upgraded, I decided to keep Soca Scooter around.  Regular folk have 2 cars…I have 2 scooters.  That was actually never my plan though. I had organized to give away Soca Scooter but because of  timing issues I ended up having him longer than I thought I would, and that led to my discovering that he is better for (at?) some things than Bumbleebee. You know how cars of yesteryear seemed indestructible but the ones these days will crumple up like paper? same concept…I just don't trust that Bumblee will be able to "take the jammin" like SS. I already talked about SS being my party/fete scooter and the other day I made another decision.
The area in which I live is very "scooter friendly".  I'm off a busy major road with EVERYTHING (read stores/groceries/restaurants) that I need/want and there are sidewalks on either side so I can (and do) scoot with ease.  2 weeks ago, a sidewalk was completed on my actual road but I didn't mind scooting on the road itself before, because as busy as the major road is, my road isn't. I scoot up my road and can go right or left depending on where I need to go and if I need to go right, I go thru a gas station to get to the pavement of the major road; going left I go thru a bank parking, again to get to the pavement of the major road.
Well one day, a work day, I had something to do and I left my apartment and scooted up my road.  I didn't think of the time because that day was the first of my vacation and who thinks bout time or days of the week while on vacation.  I was almost at the top of my road and noticed that there was a line of cars at the red traffic light.  that's when it dawned on me that "shit! it was lunch time…more traffic on the road."  No worries, by the time I get there the light would be green and the cars would have moved besides, I will be going thru the gas station and because of the position of the driveway, i'd be good. Well don't u know it; I got there and the light was still red.  On top of that, the car that was in front the gas station driveway was angled such that I couldn't get around it to enter.  I had to join the line just like everybody else to wait for the green light! Camry, Benz, Toyota, Stacey in Soca Scooter, Mazda etc…the ridiculousness of the situation did not escape me and of course I started to laugh – probably looked like a mad woman – that light could not change fast enuf!
The other day Obs and I went up the road and I used Bumblebee. I swear that since then, he hasn't been the same (it's too hard for me to explain). He still works just fine and he is the one I use anytime I'm heading out on my own or being picked up, but I think SS is more suited to handle the rugged terrain on the sidewalks in my neighbourhood. Part of my reasoning too is that Bumblebee's platform is narrower and the center of gravity is higher than SS and I feel nervous driving over the slightest incline – especially at an angle – I have a slomo video in my head of my toppling over (this actually happened before…luckily I was with some alert, quick thinking and acting men) in the middle of a road somewhere.  Can u imagine how distressing/mortifying it will be if it were to happen if I'm by myself?!? so the verdict?
Stax3.25 aka Soca Scooter – fetes/parties/driving around the neighbourhood
Stax4.25 aka Bumblebee – liming/going out anywhere else