so this weekend was Atlanta carnival. MS has made me change some things and one of those as u know, is I doh play mas any longer. As much as I always try to "spit in its face" when it comes to sun, I have come to terms with the fact that fighting up with the sun while playing mas eh making sense. I used to be on the road in Atlanta but those days are no more. I continue to go as many fetes as I can and one of those is called "Sunday Morning". It normally starts at 8am and it's outdoors but my hope is always that by the time the sun really starts to blaze in all its glory, the party will be done (or at least almost done) so my suffering should be short lived. Well this year because of the weather, it started at 11…shit! Oh well…wha yuh go do? off we went.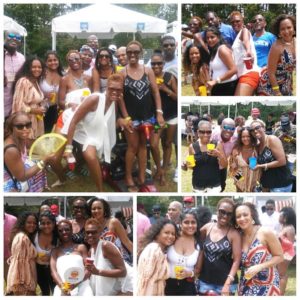 At some point, while we were in the sun (of course), G insisted that I move under the "shade". At the time I was still okay but I went cuz I figured maybe it wasn't such a bad idea. I say "shade" because it was just pieces of fabric draped over the dance floor so I knew it wouldn't really do anything and eventually, I could hear my voice getting softer and softer as I spoke (most annoying) and I could feel the energy slowly but surely drain from my body. I wasn't as badly off as I have been in the past but it's always very annoying to me to be in that state. I also realised that when I get like that people think I'm drunk (I've heard comments on a few different occasions)…Steups.
Back in the day before I started walking with a cane, when people saw me walking and holding on to someone, they used to think I was drunk…now, when I am a wiped out mess from heat/sun and people see me just sitting motionless with limp limbs in the scooter, they think I'm drunk – fucking MS! It also didn't  help, I suppose, that it was an all inclusive party. If I was drunk, I guess I cyah get vex, but when I'm not it jes pisses me off.
anyway…fete was good…had a great time in spite of it all and I recovered enuf to go somewhere else after. if u ever in Atlanta for carnival u want to include it as a bong to/have to/must go fete for the weekend. All inclusive, reasonably priced and vibes cyah done.